Dormont 1675KIT36 Blue Gas Hose Connector Kit 3-4" Diameter 36 Inches
Dormont 1675KIT36 Blue Gas Hose 3/4 Inch Diameter 36 Inches
Made for natural gas and propane powered restaurant equipment on casters. The Dormont Blue Hose features technology that reduces stress on the ends of the hose. Made from heavy-duty flexible, corrugated 304 stainless steel tubing, braided stainless steel prevent tube stretching as equipment is moved in the restaurant. Coated with a antimicrobial PVC coating that inhibits growth of bacteria, mold and mildew on the gas connector.
Moveable Gas Connector

Blue, Stainless Steel

PVC

BTU capacity 218,000

Inner diameter 3/4 inch

Length 36 inches
The complete blue hose safety system features the following: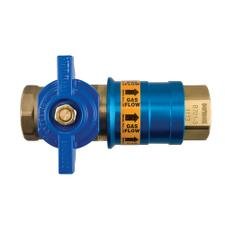 SafetyQuick is a unique quick-disconnect protection valve that combines one-handed QD functionality with a patented safety feature that prevents kitchen staff from accidentally turning on the gas when an appliance is disconnected to the supply line. It also prevents the connector from being disconnected when gas is flowing. It includes an internal thermal shut-off for added safety.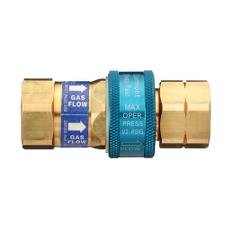 SnapFast is the only one-handed quick-disconnect (QD) fitting designed for commercial kitchens, making it easier and faster to service and move gas equipment for cleaning and maintenance. It includes a thermal shut-off for added safety.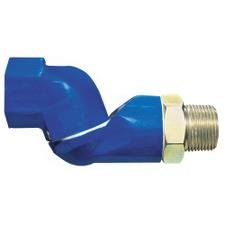 SwivelMax gives your Blue Hose 360 degree multi plane movement for maximum equipment mobility. It decreases stress on the connector to create a safer gas connection to your caster mounted appliances—and it increases aisle space by letting you move equipment closer to walls.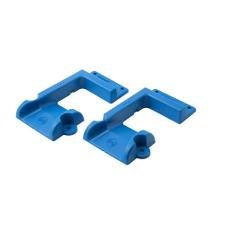 Safety-Set is an innovative placement system often required by codes for caster mounted kitchen equipment. It ensures appliances are returned to their precise location beneath fire suppression and ventilation systems after equipment has been moved for cleaning or maintenance.

Moveable Gas Appliance Connector
The Dormont removeable connector is composed of a woven 304 stainless steel corrugated tube covered with a tight weave stainless steel braid. The outside hose coating is a antimicrobial PVC coating that inhibits growth of bacteria, mold and mildew on the connector.
Blue Gas Hose
Dormont Blue Hose Moveable Gas Connector Kit, 3/4" inside diameter, 36" long, covered with stainless steel braid, coated with blue antimicrobial PVC, 1 SnapFast QD, 1 full port valve (2) 90 degree elbows, coiled restraining cable with hardware, 218,000 BTU/hr minimum flow capacity, limited lifetime warranty.
Dormont Manufacturing Approvals & Certifications
Beware of fake Dormont products offered at deep discounts. The fakes/bogus knock-offs are made with sub-par materials and poor quality control standards that jeopardize your restaurants safety.
Dormont 1675KIT36 Blue Gas Hose 3/4" Diameter 36 Inches Spec Sheet and Installation Instructions
Dormont 1675KIT36 Blue Gas Hose Connector Kit 3/4" Diameter 36 Inches
---
We Also Recommend